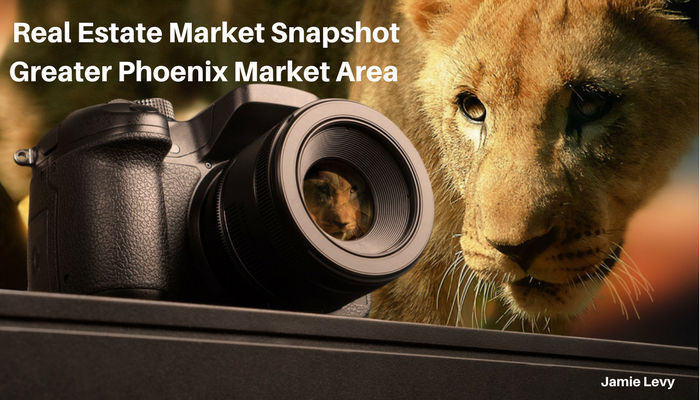 Real Estate Market Snapshot Greater Phoenix Market Area
Average Sales Price up 6.5% to $300,300 and Median Prices up 6.3% to $240,000 from same time last year.
72 Average days on market compared to 77 days the same time last year. This number is listing date to closing date. So the time to obtain an offer(s) can be quite short.
Only 2.4% of sales are distressed – Short Sales Down 26.1% and Foreclosures down 28% year over year.
Interest rates continue to be at historic lows in the low 4% range. However, rates have been trending slightly higher.
Median Rent is now $1383/month & Average Rent $1553/month according to ARMLS (Arizona Regional MLS). Rents have gone up over 25.8% in the last 5 years. Rental prices continue to increase and mortgage interest rates remain low – it is cheaper to purchase a home than rent one.
Opportunities for Buyers & Sellers
Sellers this is a great time to sell! Most sellers are in an equity position as home values have increased. Current inventory continues to be below normal, which means less competition and shorter time on the market.
Buyers this can be a challenging market, because you need to be prepared that you may be facing competition from multiple buyers for the home you want to purchase. Interest rates are still low. However, depending on which expert you believe, interest rates may rise this year. Before you go shopping for a home you need to be well prepared to make an offer and your agent needs to represent your interests well.
You don't need 20% down to purchase a home. There are programs requiring as little as 1% down payment, if you qualify. Even FHA only requires 3.5% down. In some cases, you are coming up with less than you need to rent a home. You pay a mortgage either way – yours or your landlords.
Are you curious about the value of your property? Request a Free Market Analysis. Free consultations on what you need to do to maximize your selling price and minimize your selling time.
Have you considered buying or selling? Do you have questions? Contact me and let's talk about your options and how you can accomplish your goals. Call or text: 623-332-7755 or email Jamie@JamieLevy.com.
I look forward to talking to you!
Jamie Levy
Real Estate Market Snapshot Greater Phoenix Market Area Data is based on most recent information from Arizona Regional Multiple Service Statistics as of June 23, 2017